The 1st day (you may choose the arrival day, Saturday recommended)
Transfer from Rovaniemi airport or railway station. You will be transported to the Rovaniemi safari office where you will get the adventure gear and you will get answers to the latest questions.
The 2nd day (Sunday)
All Day Snowmobile Driving. We start our week by unforgettable snowmobile safari in the wilds. Introduction to snowmobiles, driving and safety. We participate in a snowmobile safari surrounded by beautiful scenery from the nature.  This trip is a brilliant opportunity to take nature pictures of the breath taking views of the nature. We offer new ecologic and silent snowmobiles. On our way we make a light lunch, barbecue and enjoy warm beverages by open fire. Ice fishing is possible if confirmed before the start.
The 3rd day (Monday)
Visit Ranua Arctic Wildlife Park. See all wild animals living in Lapland! The wildlife park is large and natural arctic animal park. There you can see polar bears, wolfs, wolverines, lynxes, owls and other interesting animals and birds. Visit also the local berry wine shop, Fazer sweet shop and souvenir shop. Light lunch included! Often you see also wild reindeer on the way tere!
The 4th day (Tuesday)
Snowshoe Trip for Ice Fishing. Today you may experience the wilderness on our easy snowshoe trip for ice fishing. We make ice holes by a special ice drill and fish trough these holes. Nice place to admire the beauty of Lapland and make pictures. Light lunch by open fire. And if you don't mind fishing you can just enjoy the piece and make pictures.
Lapland Welcome legendary Auroras – Northern Lights evening trip by car and on foot. This is the best trip in Rovaniemi to admire this fantastic natural show and experience some local traditional shamanism. The visibility depends on the conditions. Barbecue included! Good luck!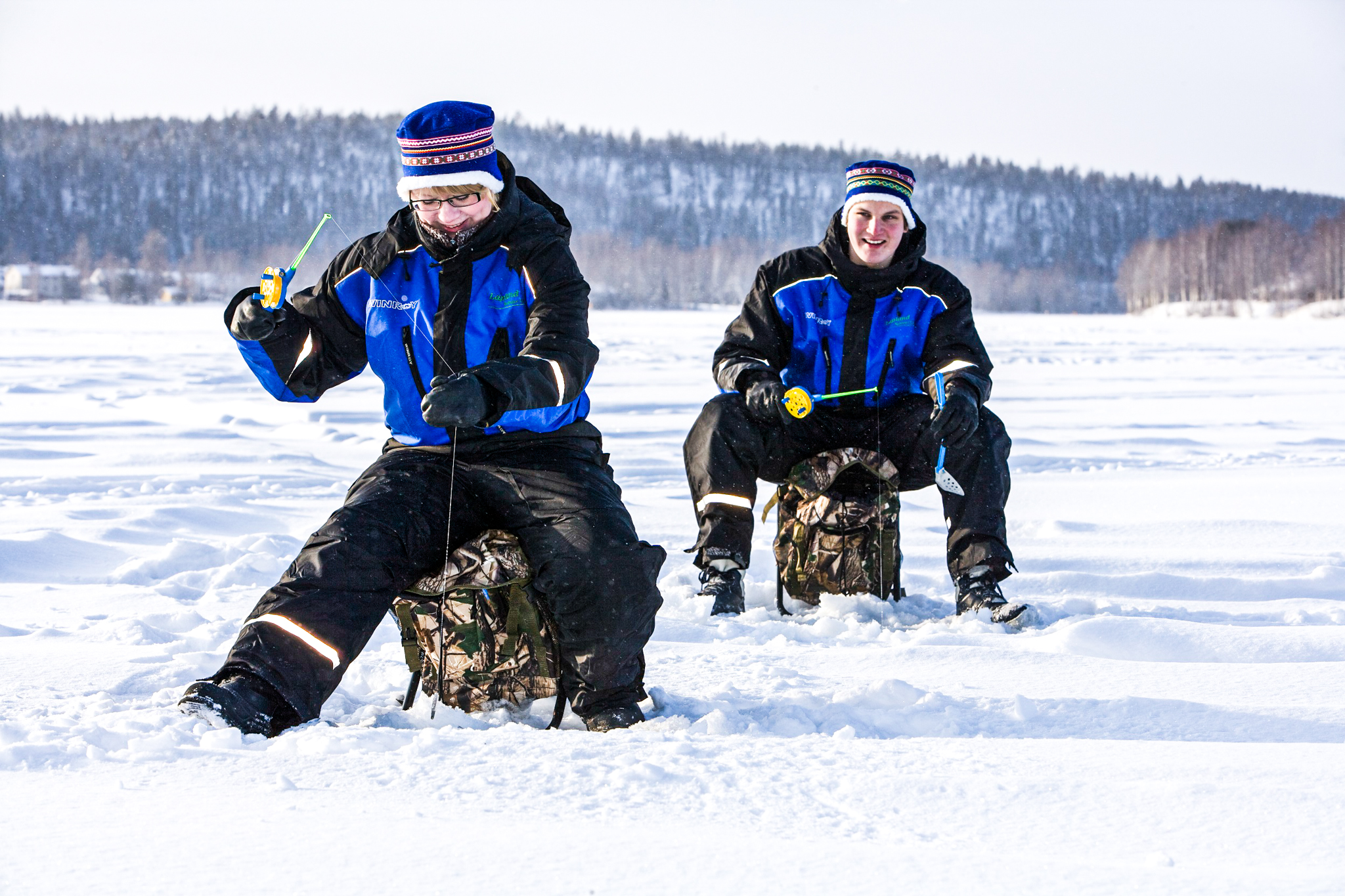 The 5th day (Wednesday)
Reindeer Safari in the Snowy Forest. Let's go and meet the reindeer herders! These people are real wilderness survivors. Our long reindeer safari is the best reindeer safari we know! Driving program can vary anyway depending on the weather conditions and month. Reindeer driving licenses are delivered as certificates of the visit. Light lunch during the day. Ask whatever you want to know about wilderness life and reindeer!
In the afternoon we visit an ice restaurant and take pictures there. Ice restaurant is available and included in December – March only!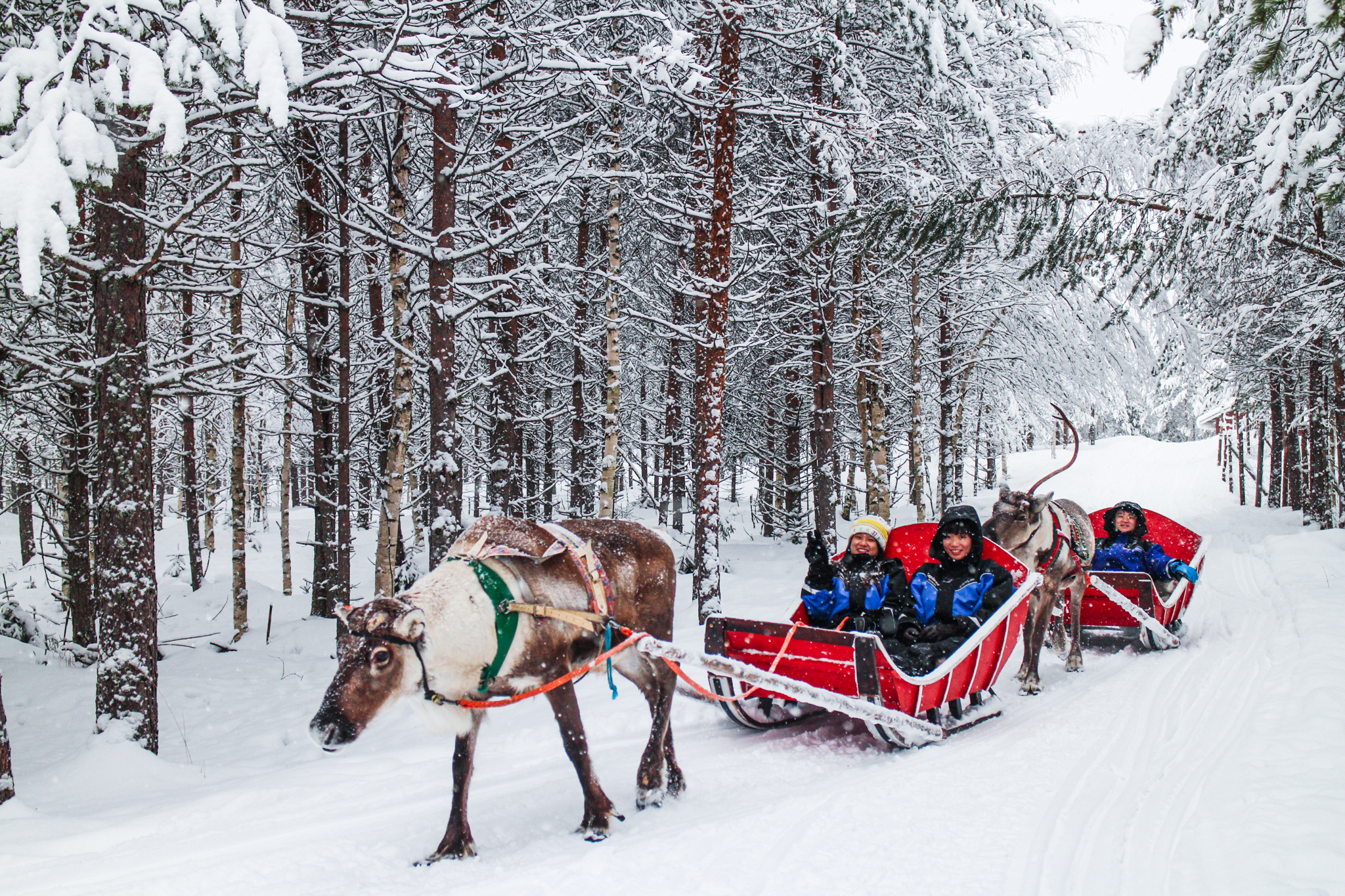 The 6th day (Thursday)
Visit a Husky Farm and Husky Safari. Today we make a half day trip to visit a husky farm. First we will receive briefing for huskies, driving and training. We have a safari in the wilderness, you may drive yourself in terms. Husky program is everyone's favorite.
Cross Country Skiing Trip. How about skiing? Easy skiing trip in the forest on good tracks is an enjoyable experience for everyone. Light lunch is offered during the day. If you don't mind skiing you can also choose nature photographing. and visit an impressive nature site, frozen river.

The 7th day (Friday)
This day is for options. For example we have an opportunity to finish our week at the sea on Sampo icebreaker. This is an adventure, have a swim in the frozen sea in special suits. And the huge ice field, it's beautiful, lunch on board. Other options: Visit Santa Claus village, Luosto amethyst mine, Korouoma canyon snowshoe trip, more snowmobile driving,… Options are not included to the basic package price. You can book them in advance or on the spot, we recommend in advance.
The 8th day (Saturday)
Transfer to the airport or railway station. Good bye snowy Lapland!
INCLUDING

Local transfers, trips, accommodation, meals, special winter gear and guiding.

Operated: 20th of November – 10th of April. The arrival and departure dates can be fixed with your flights. You may arrive on whichever week day ! The programs are connected to week days always when possible.

Great reviews in TripAdvisor!
Authentic timelapse from this tour shot in March 2018 by Donald Burghardt.
Price:

This holiday package in the following hotels, in twin or double rooms, rates in EURO / adult, child under 15 on extra bed

Hotel Kätkävaara Aurora Apartments and Snow Igloos, superior apartment, 1990 EURO / adult, 990 / child , nature hotel and the best hotel for Aurora viewing, northern lights spotting every evening, impressive nature
Hotel Santa Claus, superior rooms 2390, child 1490 quality in the city
Hotel Pohjanhovi standard room 1990, superior 2190, child 1290 traditional hotel in the city with river view, disco, karaoke
Hotel Aakenus 1990, child 1490, nice economy hotel in the city, family apartments and rooms
Chalet hotel Rovaniemi standard chalet 2490, child 1490, 5 km from the city by alpine skiing slopes
City Hotel standard 2390, lux 2590, child 1490, small hotel in the city
Sky hotel 2490, 5 km from the city, in the nature
only program package without accommodation and meals 890 Euros / adult and 690 / child under 15 (lunches included)

Some options:

Ice Breaker Cruise 590 EURO / adult and 390 / child under 15
Trip to Arctic Circle, Santa Claus and Elf's Animal Park 149 euros / adult and 99 / child under 15
Further to the Wilderness additional snowmobile safari etc…
Overnight in Snow Igloo 249 / adult and 149 / child
Overnight in glass igloo on request

Length:

7 nights

District:

Rovaniemi

Destination:

Rovaniemi

Payment methods:

Invoicing, credit card, voucher

Suitable for:

Adults, young people, couples, families, senior citizens, singles

Language:

English

Optional languages:

Finnish, German, French, Spanish…

Price includes:

Programs mentioned, airport transfers, adventure gear, guidance services, meals or snacks mentioned, organizer's liability insurance, safari desk support, in full board package also meals and accommodation.

Guest Needs:

Travel insurance for adventure sports, positive adventure attitude

Extra Pay:

Optional programs. Beverages at dinners, ice water included