20.12.2020
Welcome to North Lapland! Transfer from Ivalo airport. Receiving the week schedule and winter adventure gear at the safari office. Transfer to your hotel.
21.12.2020
We start our week by visiting a local reindeer farm. After the briefing we go for a long reindeer safari. You may sit in a reindeer sleigh and enjoy peaceful winter forest and nice sleigh ride. Lunch during the safari.
In the evening we join Lapland Welcome famous Auroras Northern Lights tour.

22.12.2020
Husky-dog driving and snowshoe trip. Introduction to huskies, driving and training. We have a two hours husky driving safari in the wilderness. In the afternoon, we have a snowshoe trip in snowy forests. Good chances to see wild animals, their footprints and try this traditional way to move on snow. Light lunch during the day.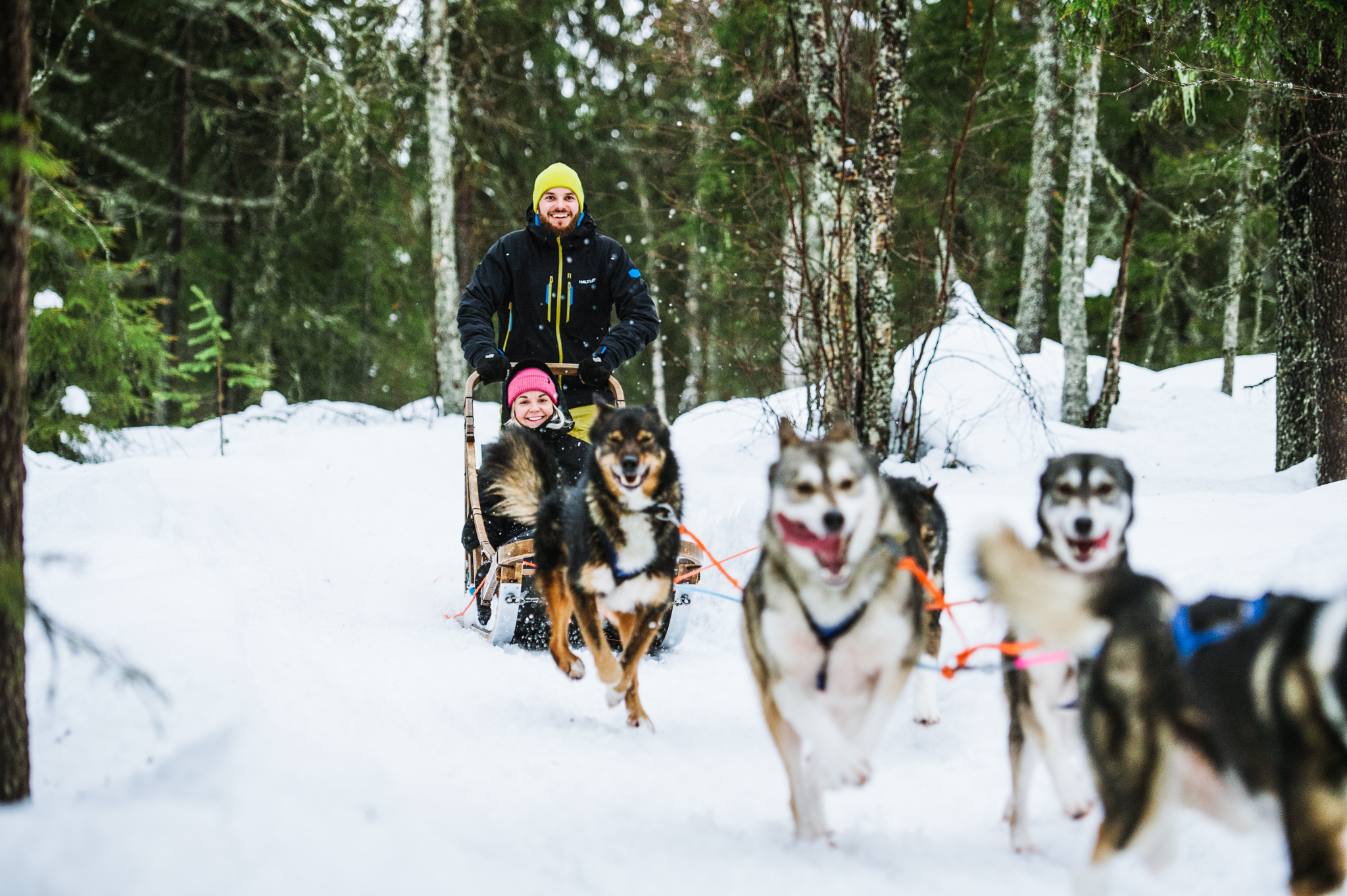 23.12.2020
Try some skiing. Saariselka area is famous for great skiing tracks. We can try this traditional way of moving on impressive trails in the national park. Slide down little slopes or just take pictures around. Great fun for everyone. For beginners!
Sledding. Enjoy sledding on the longest sledding slope in the world. Slide down sitting on plastic sleds specially planned for adults. Take pictures on the fell. Lots of fun guaranteed!
24.12.2020 Christmas Eve
Snowmobile safari on the tundra. See the snowy fells and make nature pictures and panorama video on our snowmobile safari. See the snowy forests and open tundra.
Try some ice fishing. Drill holes trough the chrystal clear lake ice. The traditional way of fishing here in the arctic in clear watrers is to look into the water and see the fishes down there, maybe with a help of a torch. Light lunch during the tour.
Spend a romantic evening and Christmas celebration dinner in your hotel and taste traditional Lapland delicacies. Christmas Eve is the day when we people of Lapland use to meet the family and give presents to each other.

25.12.2020 Christmas Day
Santa Claus village. Today we make a long day trip down to the Arctic Circle and Santa Claus village. We cross the Arctic Circle, get certificate of crossing as a memory, meet Santa Claus himself, visit Santa's Post Office and enjoy delicious lunch in Santa's restaurant. Chance to buy a picture with Santa! There will be also a chance to try driving children snowmobile or have a ride on Santa's reindeer sleigh by additional price, with real Santa's reindeer!.
26.12.2020
Sami village Inari. Today we visit Sami museum in Inari and learn about local traditions.
Siida offers the visitor both exciting experiences that appeal to many senses and expert knowledge.
At Siida, the National Museum of the Finnish Sámi and the Nature Centre of Metsähallitus work together. The pleasant restaurant Sarrit serves customers lunch on the second floor of Siida.
See also unique nature around Inari lake, which is called by old mythology as deep as long. It is 100 km long.
27.12.2020
Airport transfer. Good bye snowy Lapland!
INCLUDING

Local transfers, accommodation, all meals, safari desk services, tours mentioned, special winter gear (overalls, hats, helmets, socks, boots, gloves etc.), organizer's liability insurance, English speaking guides. The order of the daily programs can be exchanged by organizers. Small international groups. Early bookings are recommended for this relaxing week program package! Welcome!

PRICING

by full board accommodation in twin rooms

in Hotel Santa's Hotel Tunturi 1990 euros / adult
in Lapland hotel Riekonlinna 1990 euros / adult
in Hotel Kultahippu Ivalo 1990 euros / adult
more choices maybe coming later

Child rates:

1 child under 15 with 2 adults (same room) 995 Euros / child

2 children under 15 with 2 adults (2 rooms) 1495 Euros / child

1 child under 15 + 1 teenager over 15 with 2 adults (2 rooms) 1495 Euros / child under 15, over 15 goes by adult rate

The days and programs are flexible so please contact us for a tailored package.
| | |
| --- | --- |
| Length: | 7 nights |
| District: | Saariselka – Ivalo |
| Destination: | Saariselka – Ivalo |
| Payment methods: | Invoicing, credit cards, bank transfer |
| Suitable for: | Adults, young people, couples, families, senior citizens, singles, children |
| Language: | English |
| Optional languages: | Finnish, German, French, Spanish… |
| Price includes: | Programs mentioned, airport transfers, adventure gear, guidance services, meals or snacks mentioned, organizer's liability insurance, safari desk support |
| Guest Needs: | Travel insurance for adventure sports, positive adventure attitude |